The game - Dungeon Maker: Hunting Ground - PlayStation Portable | PSP
750 games PlayStation Portable



---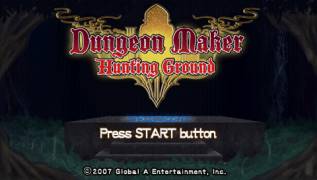 Dungeon Maker: Hunting Ground
PlayStation Portable - PSP
Dungeon Maker: Hunting Ground is a game about dungeons, monsters and treasures. However, in this project, the developers will allow the player to independently build unique dungeon labyrinths that will attract a wide variety of monsters, and it is the hunt for the latter that will bring the player jewelry and treasures.
In an abandoned town besieged by a Wandering Demon, a young architect arrives who plans to build a huge multi-level dungeon in order to attract the Demon's minions and himself there. The goal of the game is to defeat the Wandering Demon and free the inhabitants of the city from its tyranny.
Features of the game Dungeon Maker: Hunting Ground:
- Design and modify "on the fly" your unique dungeons;
- Ease of management and many options;
- Improve your dungeons, making them attractive to a variety of monsters;
- Battles in real time;
- A huge set of weapons and magic spells;
- Not a smaller set of enemies: orcs, skeletons, dragons and so on.
---
GAME INFO
---
Game name:
Dungeon Maker: Hunting Ground
Platform:
PlayStation Portable (PSP)
Developer:
Global A Entertainment
---