Game description Dungeon Siege: Throne of Agony - PlayStation Portable (PSP)
In the base 750 games PlayStation Portable



---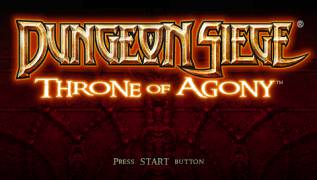 Dungeon Siege: Throne of Agony
PlayStation Portable - PSP
The legendary role Dungeon Siege series by right is considered one of the most worthy successors of traditions of Diablo. Several its episodes on PC quickly won love and respect of admirers. Always fascinating plots full of surprises and surprises; heroes bright, unlike at each other, unusual tasks and permanently spectacular battles - it is necessary to fall in love with Dungeon Siege! & nbsp;
of Dungeon Siege: Throne of Agony & mdash; it is a debut release of series on pocket PSP. Especially for a new game authors created a unique plot, thought up the characters who were not meeting earlier and drew the whole world inhabited by mysterious beings and crowded with dangerous secrets. You will need not less than fifteen hours to understand artful designs of artful intrigues and to win over the main enemies. Wait for risky adventures!
Create the hero! At choice it is offered four characters, eight heroic and sixteen legendary classes. On what way your avatar will go, depends only on you.
Canine friends will come to the rescue of
! Take with yourself a devoted animal or the workmate operated by artificial intelligence. Animals not only it is hardy drag load, but also are involved in battles, and the fellow soldier will cover a back at a difficult moment.
In the local woods it is unsafe! The huge virtual world inhabits more than hundred kinds of blood-thirsty monsters: some of them are familiar on the previous adventures in Dungeon Siege, but you never met earlier the majority.
U you all necessary to overcome the Evil is! More than hundred spells and unique abilities, tens of types of a lethal weapon and even vehicles, both water, and air, will not allow to be gone in dangerous wanderings.
Travel with the friend! Connect couple of PSP and move off in searches of adventures together! Everyone can take with itself(himself) a manual animal or the faithful companion & mdash; the team, thus, will expand to four characters.
Battle against the friend! If there is no time for a full-fledged campaign, go to the arena and battle for the champion's rank in Dungeon Siege Universe.
---
GAME INFO
---
Game name:
Dungeon Siege: Throne of Agony
Platform:
PlayStation Portable (PSP)
Developer:
SuperVillain Studios
---