Game description EyePet - PlayStation Portable (PSP)
In the base 750 games PlayStation Portable



---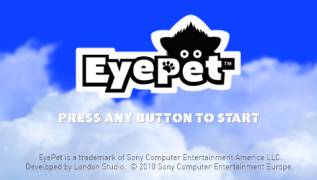 EyePet
PlayStation Portable - PSP
Buy egg in the Center of pets, and soon from it your amusing and devoted friend will hatch. Great, truth?
Welcome to the amazing world of EyePet - a unique, multilevel touch game. EyePet is amusing, friendly and always ready to play with you an animal with whom all members of your family will surely fall in love!
Tickle it, let's jump or play a game of tag. Cheerful EyePet will never refuse to play with you. The pet of EyePet - a bright small animal. Draw something, and it in accuracy will copy your drawing. Then recover your drawing and force the received result to move!
to you bothered
how your EyePet looks? Any problems. You easily can also just change to it color of wool, pick up a suit and accessories or to look how abruptly your pet will look with a strizhechka under a poodle.
you Feed, bathe the EyePet and do not forget to be interested in state of his health always to be sure that with your little friend everything is all right. For care of the pet you are waited by a special award.
---
GAME INFO
---
Platform:
PlayStation Portable (PSP)
Developer:
SCE London Studio
Publisher:
Sony Computer Entertainment
---