Game description Fading Shadows - PlayStation Portable (PSP)
In the base 750 games PlayStation Portable



---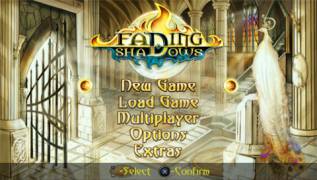 Fading Shadows
PlayStation Portable - PSP
The world evil started moving, and Great Gardal built the devil plan. By means of the faithful adherents of Kuip and the Morgue he intends to subdue the Heavenly Lock the last stronghold constructed for defense of peace from the forces of evil. The only opportunity for Gardal to open Lock gate - a sacrifice of innocent soul of Ervin, young boy mentioned in an ancient prophecy. Gardal and his henchmen already captured the boy and ground him in a dungeon in where he waited for an execution.
But Gerdal did not consider what the Acorus - the clairvoyant Ervin's sister will hurry to it to the aid. To save the brother, the Acorus concluded Ervin's soul in a crystal tear and covered it with the protective sphere. The only opportunity for Acoruses to release the brother - to deliver the sphere in the Heavenly Lock, using a magic beam. Unfortunately, creation of a beam exhausted all its forces, and she is not able to operate it any more... Whether you will be able to help it?
Take charge of a beam and carry out the sphere through the conquering world of dangers and adventures. It will not be easy as henchmen Gardala Kuip and Mogr will try to stop you at any cost. Avoid Kuip's traps, solving the riddles and puzzles established to detain you. You pass through bogs and mountains, make the way via locks and the abandoned cities. For overcoming obstacles in your way turn the sphere in wooden to float in water, and also in metal when hardness is necessary. Do everything possible to save Ervin and return him to the Heavenly lock.
---
GAME INFO
---
Game name:
Fading Shadows
Platform:
PlayStation Portable (PSP)
---