The game - Fate/Unlimited Codes - PlayStation Portable | PSP
750 games PlayStation Portable



---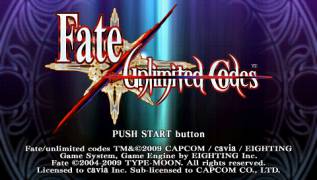 Fate/Unlimited Codes
PlayStation Portable - PSP
A fighting game developed by Capcom in 2009. The events of the game are based on the visual novel Fate/stay night. Most of the characters in the game are from Fate/stay night, with some from Fate/Zero and Fate/hollow ataraxia.
The game has an arcade mode where there is a storyline (in the form of a visual novel) for each character and you can lead your hero to victory in the holy grail war. There is also a mission, survival, training, and multiplayer mode.
The game has a total of 17 characters, 14 main and 3 hidden.
Main characters:
Bazett Fraga McRemitz
Rider
Berserker
Saber
Archer
Custer
Gilgamesh
Luviagelita Edelfelt
dark sakura
Lancer
Emiya Shirou
Tohsaka Rin
Assassin
Kotomine Kirei
---
GAME INFO
---
Game name:
Fate/Unlimited Codes
Platform:
PlayStation Portable (PSP)
---