Game description Fate/Unlimited Codes - PlayStation Portable (PSP)
In the base 750 games PlayStation Portable



---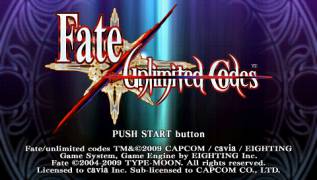 Fate/Unlimited Codes
PlayStation Portable - PSP
The Fayting developed by the Capcom company in 2009. Events of a game are based on the visual short story Fate/stay night. Most of characters in a game are taken from Fate/stay night, with participation of some of Fate/Zero and Fate/hollow ataraxia.
At a game the arcade mode where there is a subject branch (in the form of the visual short story) on each character is present, and you can lead the hero to the victory in war for sacred Graal. Also there is a mode of missions, survivals, trainings, and a multiplayer.
In a game of only 17 characters, 14 main and 3 hidden.
Main characters:
---
GAME INFO
---
Game name:
Fate/Unlimited Codes
Platform:
PlayStation Portable (PSP)
---