Game description FIFA 06 - PlayStation Portable (PSP)
In the base 750 games PlayStation Portable



---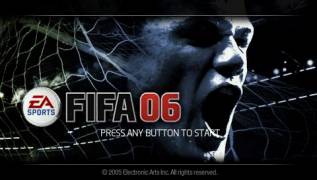 FIFA 06
PlayStation Portable - PSP
Stands roar, people something shout in front of TVs, at all forgetting that on that side of the screen nobody hears them, huge turns are built before cash desks of stadiums. Soccer, perhaps, the most scandalous sport. Around it rough passions always boil, they uplift one on top of glory and wealth, throw others on a bottom. FIFA 06 & mdash; your chance to appear in the center of events moreover and to affect them. A game as much as possible copies live soccer. 21 real-life Leagues and 10,000 real players found the reflection in the virtual world. Various statistical data with which FIFA 06 abounds, correspond to indicators of a season 2005-2006, fresh just there is no place. whether
you Are ready to shoulder responsibility for own football club? And you want to leave in the field and, at last, to settle accounts with Japanese? FIFA 06 will embody dreams in reality.
Ronaldino's
has a rest! The new control system allows even to players, far from real soccer, to surpass in the field of the most famous football players of the world. EA made every effort to make a masterly inking rather simple for execution.
you Wish to acquire the club? Please! Get up in the head of the soccer team, having shouldered all freight of responsibility for its success. You have to care for welfare of club, without money it is impossible to update star structure and players who are already invited in a team will sour without salary. Finance should be scooped from advertizing of sponsors, from sale of tickets and souvenirs for fans.
Soccer for every taste! Three new editors & mdash; Create-A-Player, My FIFA and Team Management & mdash; allow to change world soccer in a game as you dreamed long ago. Create-A-Player will embody all your ideas of the ideal player in one football player. You are imperious both over appearance, and over professional skills of a star. By means of My FIFA and Team Management except the ideal player also the ideal team will be born.
What
soccer without other players? In the collective mode can try forces to three people, and admirers of big soccer are invited in FIFA Interactive World Cup. There, among virtual football players of all planet, you for certain will find worthy rivals.
---
GAME INFO
---
Platform:
PlayStation Portable (PSP)
---