Game description FIFA 08 - PlayStation Portable (PSP)
In the base 750 games PlayStation Portable



---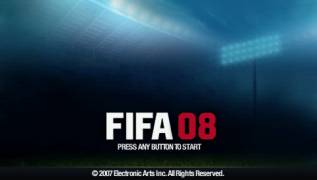 FIFA 08
PlayStation Portable - PSP
Soccer & mdash; it is more, than a game. Bitterness of defeats and sweet taste of victories are sharply felt where you were: in front of the TV or at the stadium. And what to direct participants and responsible for this show? Now you had one more opportunity to feel intensity of emotions, without leaving the house, or to take big soccer with itself in a travel. The portable console of Sony of PSP will easily be located in a pocket, and together with it & mdash; hundreds of players and tens of clubs!
In your power to gather a team of the dream or to look at the world eyes to nobody the famous football player and with own hand to result the young man in glory. Combine styles of play of legendary celebrities or develop own techniques. To remember the main thing that the ball behaves now as real. Thanks to new system of shortchanging of physical impacts, all blows look exactly as in life.
Complete control over a situation. Advanced technologies of management allow to regulate force and the direction of blow with a tremendous accuracy, to carry out sophisticated combinations and the impudent attacks. If you do not like a role of the forward or defender, undertake duties of the goalkeeper!
Soccer in a tie. Personally form and train team as the manager, revealing talents of the players. Knowing abilities of everyone, it is possible to place competently wards in the field. Think over own way to success to create ideally balanced club.
Advanced artificial intelligence. The opponent does not go in cycles in several receptions, and uses the different courses. At its order of their more than one thousand, and considering that the situation in the field changes constantly, about sixty thousand options of development of the situation every minute turn out.
of League of any level. Expose the club against participants of the Premier league, Bundesliga, French League or the First division of Mexico.
Study
together with FIFA 08 soccer! Check the knowledge and get new data from one thousand questions in a football quiz. By means of the points gathered for the correct answers open confidential videos and receive a set of pleasant trifles.
---
GAME INFO
---
Platform:
PlayStation Portable (PSP)
---