Game description FIFA Street 2 - PlayStation Portable (PSP)
In the base 750 games PlayStation Portable



---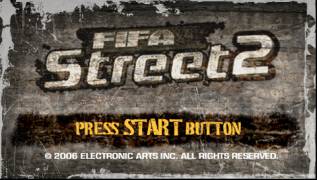 FIFA Street 2
PlayStation Portable - PSP
A sports lawlessness on city streets, and you & mdash; in the center of events! The yards and gates turn into playgrounds, on them serious passions boil, the atmosphere is heated to is white, adrenaline reads off scale, rate of dizzy fights for a ball continuously grows! You will be able to sustain this mad rhythm?
Street soccer & mdash; at all not the same that a game on a big field. There is no exactly mowed grass, huge stands and the judge in a striped undershirt. Actually, the judge here is also not necessary, ruled in street soccer a minimum. But domestic the match is unlike more spectacular than a big game. Concrete lanes win against the real virtuosos, fight for a ball reminds a duel of two acrobats, and sophisticated tricks replace each other so quickly that without due skill not to follow them! Well, to the yard?
management, Unique on simplicity and functionality. A variety of graceful feints is really huge, and bystry access to each of them as much as possible sates a game with action. FIFA Street 2 & mdash; entertainment for active people!
to
needs Skill everywhere! Now in duels of two domestic football players perfect possession of various tricks is necessary for both. On each feint of the forward the defender has to find the effective block and such to manage to counterattack!
the Street soccer does not know mercy! Tricks are possible not only with a ball, but also with your rival. Try to put it out of action in couple of calculated blows & mdash; and a victory at you in a pocket.
Play
with celebrities! In FIFA Street 2 you will meet more than three hundred stars of street soccer from two tens countries. Each master has the unique style!
Build the playground on the taste! If in big soccer each team has the stadium, then in soccer street players equip the lanes. Organize the platform as it is pleasant to you.
of FIFA Street 2 & mdash; it is one thousand ways of self-expression in one game! You have the right to organize own team and even to create the unique football player. Choose different hairstyles, change to the player footwear and other articles of clothing.
---
GAME INFO
---
Platform:
PlayStation Portable (PSP)
---