Game description Fight Night Round 3 - PlayStation Portable (PSP)
---
---
---
---
In the base 750 games PlayStation Portable



---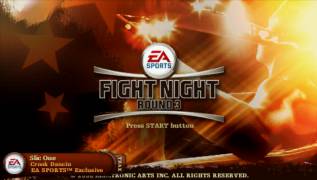 Fight Night Round 3
PlayStation Portable - PSP
From time immemorial men solve the problems quite simply. Old as the world, the way was known in a classical antiquity, but does not lose relevance to this day. Tooth for tooth, a fist on a fist: the honest duel will put an end to any disagreements. In the 20th century unorganized fights turned into big-time sports. The boxing brings together millions of the viewers, around a ring huge money turns, but two behind ropes are far from empty vanity. They live in other world with other laws. Fight Night Round 3 & mdash; a unique opportunity to look at this world from within.
you did not see
of It yet and even less so did not expect from PSP!
Boxers move with grace of living athletes, and appearance remind the Hollywood stars. Fight Night Round 3 & mdash; it is the anthem to brute force and cruel beauty. This window in the Universe of the real man's sport. You are ready to a flashing show?
For the first time a game is more effective than live broadcasting! In Fight Night Round 3 it is madly interesting to play, but also the simple audience will not come off the loser. Quality of graphics erases a side between reality and virtual illusion. On the screen there is the same that is shown in TV broadcasts. Only fights are brighter and more effective here.
World champions will teach you to battle. Sort legendary Ali and great Oscar De La Hoya's tactics on stones. Adopt their style. You do not want to imitate somebody? Then create own action program on all cases of boxing life!
Variety of receptions, set of styles. You keep the rival at arm's length long attacks. Turn aside from terrible blows by prompt dives. You love risk? Then rush to infighting! At good reaction and a shred of good luck you will be able to send the opponent to a knockout.
Big boxing & mdash; it not only fights on a ring. Rivals, as a rule, well know and really hate each other. Loud duels are preceded by informal skirmishes and press conferences during which fighters seriously burn. Fight Night Round 3 offers a unique opportunity to glance behind the scenes of boxing. You will become the participant of all actions preceding fight!
Cannot underestimate the opponent! The adaptive artificial intelligence watches closely each your movement and methodically develops ways of counteraction. Be not surprised if once all your welcome are accorded are useless.
Repeat
, change or write the story! You can be involved in the largest fights. You have the right to reduce on a ring of the boxers never fighting in real life. At last, in your power to light new stars in a sport sky and to remove to the public new names!
Battle against the friend! Fight Night Round 3 uses network opportunities of game system and allows you to find out once and for all who actually is the best fighter!
---
GAME INFO
---
Game name:
Fight Night Round 3
Platform:
PlayStation Portable (PSP)
---