The game - Final Fantasy Tactics: The War of the Lions - PlayStation Portable | PSP
750 games PlayStation Portable



---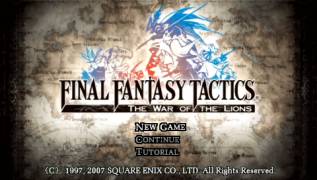 Final Fantasy Tactics: The War of the Lions
PlayStation Portable - PSP
From the creators of Final Fantasy XII. The wisdom of a commander will help you win a great victory and save the kingdom of Ivalice from the horrors of war.
Features:
Unlimited customization, over 400 abilities and 22 quests, including a battle with the Dark Knight.
You can recruit legendary characters, including Balthier from Final Fantasy XII!
Tactical battles based on a turn-based combat system come to life with stunning graphics, music and animation.
An exciting plot will reveal to you the history of intrigue, exploits and betrayal.
Challenge your friends in online battles or complete missions together!
---
GAME INFO
---
Game name:
Final Fantasy Tactics: The War of the Lions
Platform:
PlayStation Portable (PSP)
---