The game - Football Manager Handheld 2007 - PlayStation Portable | PSP
750 games PlayStation Portable



---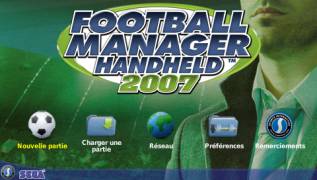 Football Manager Handheld 2007
PlayStation Portable - PSP
The ball rushes over the field like a sparkling lightning, collides with the player's head, abruptly changes direction, hits the leg, soars up and ... suddenly finds itself in the net. The referee's whistle blows, the stands roar, and the heart bleeds - after all, once again, not your idols are honored at the stadium, but your favorite club leaves home defeated.
Football Manager Handheld 2007 will put an end to such injustice. Now you personally will manage the affairs of the team, a person who knows everything about football and the rules of survival among the toothy sharks of big sport. Hire trusted coaches, find and buy talented players, equip the stadium for home matches - all these and many other chores will fall on your shoulders. But for true fans of star football, the manager's concerns are only a joy!
Features of Football Manager Handheld 2007 (PSP):
- Football players can be borrowed.
To conclude a contract with a good player, you need a decent amount. But why buy a "star"? Start by temporarily inviting players from small teams. Compete with them in qualifying matches, gain experience and save money. And there, you see, you can buy a whole club!
- Young people in FIFA are dear to us!
Young blood is vital for any team. Refresh your club with young but promising players. You haven't seen these guys in any Football Manager yet!
- Stay up to date with the latest events!
The database can be updated so that all important football transfers are immediately reflected on the screen of your PSP.
- Learn all about football stars!
Reliable information about the strengths and weaknesses of both your own and other players is an important condition for victory. But football players who have not yet reached the heights of glory, although promising, are little known in sports circles. You will not be able to get acquainted with all their characteristics without using the services of an experienced scout.
- The players have something to say!
Communicate with your team. Every athlete has a different perspective on the success or failure of your club. Consider the wishes of the players, let them talk or share good advice!
- The search for athletes will not be a hassle.
Thanks to a number of conceptual improvements, you will be able to quickly find the right players among tens of thousands of football players.
- Big sport is not only business, but also life.
In Football Manager Handheld 2007 you will experience it first hand. As a professional manager, you will have to study not only the tables of matches and the characteristics of athletes, but also newspaper articles with ridiculous rumors, notes by eminent analysts, news columns and much more.
- What is football without a good match?
The game of athletes has become more lively and believable, and professional commentators turn sports into a real show.
- And the whole world is not enough!
From now on, you are not limited by geographic boundaries and state borders. The best of the best will receive worldwide recognition and will be able to start the game as an international manager!
- Great football without wires.
Compete with friends by connecting consoles via WiFi technology. You can quickly create teams automatically or use star clubs created in single player in the multiplayer tournament.
---
GAME INFO
---
Game name:
Football Manager Handheld 2007
Platform:
PlayStation Portable (PSP)
Developer:
Sports Interactive
---