Game description Archer Maclean's Mercury - PlayStation Portable (PSP)
In the base 750 games PlayStation Portable



---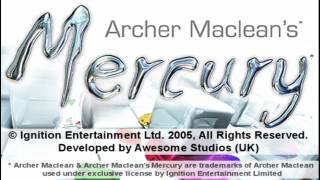 Archer Maclean's Mercury
PlayStation Portable - PSP
Mercury & ndash; a unique game of new generation, with excellent physics and fascinating game process. Main character of Mercury & ndash; a small ball of mercury which needs to be carried out to an exit, passing various obstacles and solving at the same time uncommon problems.
by means of an inclination of the game card, you can move a sphere in the necessary direction. For achievement of result it is necessary not only to carry out a sphere to an exit, but also to solve several problems of opening of passes, substance repaint, and also to keep within time allowed for a mission. Thanks to all this game process turns out very fascinating. >
to Fans it is recommended to strain p of a crinkle.
---
GAME INFO
---
Game name:
Archer Maclean's Mercury
Platform:
PlayStation Portable (PSP)
Developer:
Awesome Studios
---