The game - Grand Theft Auto: Liberty City Stories - PlayStation Portable | PSP
750 games PlayStation Portable



---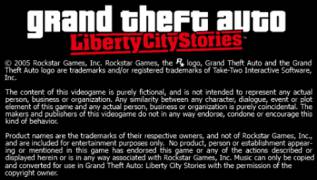 Grand Theft Auto: Liberty City Stories
PlayStation Portable - PSP
Liberty City, the last island of true freedom, a territory of absolute lawlessness. A city where you can gain or lose a life in a split second. A city with a million possibilities, the realization of which will require nothing but your own blood. We were in it, alas, passing through. The fascinating journey is over, outside the window of the house and the streets of Los Santos, but can't we return to where it all began? We can, we can!
What was Liberty City like before our first visit to its quarters? Liberty City Stories tells the story of the Free City. In the center of events - Tony Sirpini. For four years he was hiding from the mafia in a foreign land, but finally he decided to return to his native land. Unfortunately, Tony has not been forgotten, and no one is going to forgive him for the murder of the mafia don, even if it was committed years ago. Bloody "cat and mouse" will continue on the territory of Liberty City.
Game features:
Look at the world of GTA from the other side! The new plot reveals many secrets of previous GTA episodes. However, you are not required to have a thorough knowledge of the events of "GTA III", "Vice City" and "San Andreas". "Liberty City Stories" is equally friendly to both newcomers and old-timers.
Graphics will give odds to PC. "Liberty City Stories" is one of the most beautiful projects on PSP. Detailed levels, high-quality textures, stunning special effects, complex vehicles and people models in the palm of your hand! No system blocks and bulky monitors.
Over a hundred hours of exciting game play. At your service are new heroes, cars, motorcycles, a huge arsenal and action-packed missions! "Liberty City Stories" is by no means a PSP version of "GTA III", it is an independent full-fledged project.
"GTA" with a collective mode - this has never happened before! Six players will be able to simultaneously find themselves in a huge city. Your attention is invited to the classics of tournaments - Deathmatch, Assault and team play options.
---
GAME INFO
---
Game name:
Grand Theft Auto: Liberty City Stories
Platform:
PlayStation Portable (PSP)
Developer:
Rockstar Leeds
Publisher:
Rockstar Games
---