The game - Growlanser IV: Wayfarer of Time - PlayStation Portable | PSP
750 games PlayStation Portable



---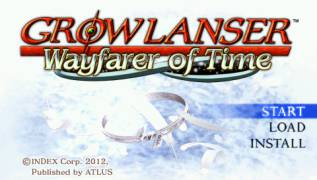 Growlanser IV: Wayfarer of Time
PlayStation Portable - PSP
Growlanser: Wayfarer of Time for PSP is an updated port from PS2 (Growlanser IV: Wayfarer of Time) to PSP. The list of added features includes new events, new historical scenes, over forty different endings, new characters, fast loading, the ability to skip messages. Growlanser: Wayfarer of Time takes place 2000 years after the end of the war between angels and humans. Once a high-tech civilization, humanity has now lost all achievements.
Magic is now just a myth. Angels are a legend. But people don't learn from their mistakes, and wars are still common. Perhaps the angels were right, trying to destroy people 2 millennia ago? War and politics are the main theme of all Growlanser games and run throughout the story. Your friends may become enemies tomorrow, and opponents on the other side of the barricades also have their own truth.
The formation of alliances and betrayals are presented here as a kind of game. And at the same time, angels are still considered the main threat to people, but the story is mostly lost, and no one knows for sure. Although the theme of war and politics may sound too serious for the game, Growlanser does not delve into these issues too deeply. It does not force the player to read boring historical texts and shows only the brightest and most interesting events. The protagonist of Growlanser is a mercenary from the famous Alten Schwart brigade.
Even before the start of the plot, he loses all his loved ones and is currently on the boss's task - to destroy the angels. Crevanille is taciturn, but you are allowed to choose how you respond in certain situations. This may change the attitude of your partners towards you, but will not affect the plot. If you want to know the full story of any character, be careful in your answers.
---
GAME INFO
---
Game name:
Growlanser IV: Wayfarer of Time
Platform:
PlayStation Portable (PSP)
---