The game - Gungnir - PlayStation Portable | PSP
750 games PlayStation Portable



---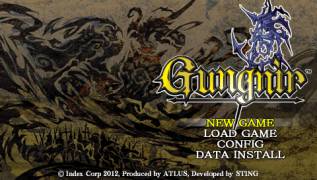 Gungnir
PlayStation Portable - PSP
The events of the game begin in 983 and take place in the empire of Gargandia - a country inhabited by two races: the upper class of Daltania and the peasants of Leonika. Leonica are considered cursed for unknown reasons and are subjected to severe class persecution.
Because of this and events such as the "Massacre of Espada", which took place about fifteen years ago, Leonica formed a resistance army called Esperanza, which, however, proved to be ineffective.
One day, the commander of one of Esperanza's detachments - Giulio, with his people, rescues a girl from a caravan of slave traders. He allows the girl, posing as Alyssa, to join Esperanza, despite her fears that this may be followed by a response from the Daltania army.
Soon after, in a fierce battle that nearly cost Giulio his life, a demonic weapon appears before him. Learning that it is the demonic spear Gungnir, he uses it to win the battle. Julio and the members of Esperanza believe that Gungnir is capable of providing them with enough power to win this war. And so their fateful adventure begins.
---
GAME INFO
---
Platform:
PlayStation Portable (PSP)
Developer:
Sting Entertainment
---