The game - Harvey Birdman: Attorney at Law - PlayStation Portable | PSP
750 games PlayStation Portable



---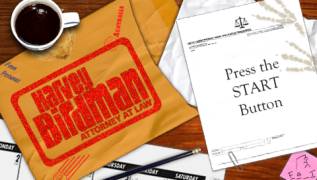 Harvey Birdman: Attorney at Law
PlayStation Portable - PSP
Harvey Birdman: Attorney At Law is a new comedy litigation adventure game based on the popular animated series from Cartoon Network about a failed superhero moonlighting as a lawyer...
Harvey Birdman, LL.D., is the protagonist of one of Adult Swim's nightly programming block (absurdist humor, adult cartoons, anime) of the animated series dedicated to the life of the law office "Sebben and Sebben", staffed with superheroes from the budget cartoons of the sixties, in an incredible number of produced Studio Hanna-Barbera. An "animated adventure game" based on the motives was developed by High Voltage Software, which made the latest 3D quest series about Larry Laffer Leisure Suit Larry: Magna Cum Laude.
A mask, wings, and a strict gray suit with a red tie - that's the guise of a player throughout five lawsuits based on the events of the cartoon ... It is required to inspect crime scenes, collect evidence missed by the police, prosecutor and all sorts of absurd methods to tear apart the testimony of witnesses for the prosecution. The main drama is in the legal confrontations between Harvey and his best friend and sworn professional enemy, Myron Reducto of Freezoid, Zarog and Skon, who does not part with a reducing pistol even in the courtroom.
Harvey Birdman: Attorney At Law is a very unusual game that will be a great addition to any gamer's personal collection.
---
GAME INFO
---
Game name:
Harvey Birdman: Attorney at Law
Platform:
PlayStation Portable (PSP)
Developer:
High Voltage Software
---