Game description Hellboy: The Science of Evil - PlayStation Portable (PSP)
In the base 750 games PlayStation Portable



---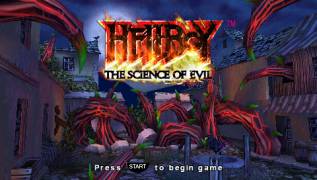 Hellboy: The Science of Evil
PlayStation Portable - PSP
The famous hero of comics Hellboy never fell under the traditional description of the savior of the world. The Hollywood smile, a seductive look and brilliant cuff links in a makeweight to a magnificent car & mdash; all this to anything when the head horns crown, and from under a raincoat looks out a one-and-a-half-meter tail. But frightening appearance and nasty character are to the good only for the one who devoted the life to fight against Darkness forces. The demon who grew up among people continues war with the former fellows, and this time you should accept his party!
the Fascinating story of a game is based on events of the comic book of the same name in which Hellboy has to stop Nazis before they release the ancient Evil. To prevent villains, the fearless demon and two his friends & mdash; Abe Sapeyn and Lise Sherman & mdash; go to a dangerous travel. Ahead of them fight with the German fanatics and their leader Germann of wons by Klempt, and also a meeting with henchmen of the Satan waits. The decisive fight for destiny of the planet comes, and its outcome depends on you!
Given rise in hell. The past of the hero does not allow to forget about itself for a minute. Hellby was the demon, and the evil beginning aims to turn it into the slave again. What will be stronger also than mdash; good or the evil, only the one who will reach the final chapter of this fascinating story learns.
to
In fight need any trifle! There is too much enemies even for such strong guy as Hellboy! To win, you should use all the cunning and resourcefulness. Avoid open collisions and take advantages of a surrounding situation & mdash; for example, it is possible to throw improvised objects in enemies: beams, poles and even other opponents!
underworld Gifts. The main character has supernatural abilities and with pleasure uses them against the former fellows. The call of under control monsters, the Right Hand of Death and other gifts of the Dark lord will turn back against his army!
the hero had allies! In a collective game besides Hellboya well two more characters. Abe Sapeyn and Lise Sherman will support Hellboya and will help it to save the world from destruction.
---
GAME INFO
---
Game name:
Hellboy: The Science of Evil
Platform:
PlayStation Portable (PSP)
---