The game - Hot Pixel - PlayStation Portable | PSP
750 games PlayStation Portable



---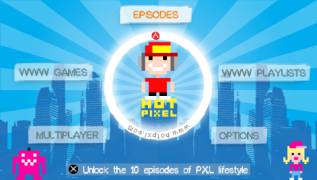 Hot Pixel
PlayStation Portable - PSP
A collection of mini-games from Atari on the theme of street culture and the underground! You have to remember the skills of playing good old arcade toys to complete all the levels of this collection. The game is divided into several levels, to go to the next level you will need to go through a set of mini-games, in each of which you have to test your reaction and ingenuity.
Hot Pixel for PSP is:
- Over 200 arcade mini-games and 10 bonus levels.
- Online features: co-op mode, VS mode and bonus content sharing.
- Original soundtrack.
- Incredibly addictive gameplay.
---
GAME INFO
---
Platform:
PlayStation Portable (PSP)
---