Game description Infected - PlayStation Portable (PSP)
---
---
---
---
In the base 750 games PlayStation Portable



---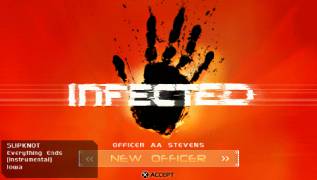 Infected
PlayStation Portable - PSP
In New York Christmas. The strange virus extended on the city, turning normal people in mad and cruel Infected. Officer Stephens & ndash; one of the first victims of a virus, but unlike others, it does not lose control over itself. A certain mysterious doctor decides to use Stephens's immunity for fight with Infected. Help the officer Stephens to cope with a virus & ndash; or create own clan with friends and infect enemy PSP!
of Feature of a game:
- the Storm zombie action on streets of New York;
- Score points on chains of extermination of the zombie and cover streets with blood;
- the Classical network modes - Deathmatch and Team Deathmatch;
- Create clans and infect enemy PSP in the special network mode;
- the Fascinating plot with a fair share of humour and interesting characters;
- the Real arsenal of weapon will not allow to leave to the uniform zombie live.
---
GAME INFO
---
Platform:
PlayStation Portable (PSP)
Developer:
Planet Moon Studios
Publisher:
Majesco Entertainment
---