The game - Innocent Life: A Futuristic Harvest Moon - PlayStation Portable | PSP
750 games PlayStation Portable



---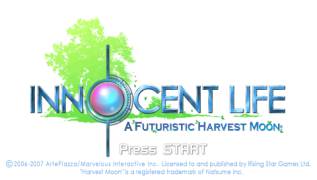 Innocent Life: A Futuristic Harvest Moon
PlayStation Portable - PSP
Innocent Life: A Futuristic Harvest Moon is a strategy game about the hard work of futuristic farmers. You have to conquer the barren lands of the future and cope with formidable neighbors. All the action takes place on a small island with a volcano in the center. Innocent Life allows you to escape from the worries of the city and immerse yourself in a farming paradise.
You will need to cultivate new types of plants, as well as monitor relations with the surrounding residents. All neighborhoods in the game have unique terrain, complete with unique plants. The game features supporting characters, including your mentor, Professor Hope. You will find many mysteries and puzzles on the way to plant happiness.
This game allows us to leave the bustling crazy city always hurrying somewhere and plunge into the measured rhythm of country life in order to build our own farm. You have to take care of the crops and vegetables you have planted, as well as interact in various ways with all the surrounding residents in order to best maintain your farm, which is located on a small southern island filled with peace and tranquility.
You can freely explore this island on foot, enjoying the beautiful forest trails and fresh air, or by bike - making your way through the cities, ancient ruins, and even visit the mouth of the volcano in the very center of this island. All these places have a unique landscape, game-torrento.org covered with original vegetation pleasing to the eye. In addition to the many inhabitants of this island who will help you throughout the game, including your mentor, Professor Hope, in the game you will meet a wonderful Mermaid who lives on the lake.
Depending on the success of building your farm, as you progress through the game, you may discover many hidden secrets of this unprecedented and mysterious island. What? See for yourself...
---
GAME INFO
---
Game name:
Innocent Life: A Futuristic Harvest Moon
Platform:
PlayStation Portable (PSP)
---