The game - Killzone: Liberation - PlayStation Portable | PSP
750 games PlayStation Portable



---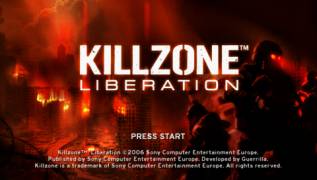 Killzone: Liberation
PlayStation Portable - PSP
Many science fiction writers do not bode well for our future, and the writers of Killzone: Liberation agree with them. Two months have passed since the brutal battles in the original Killzone, but the Helghast army has not given up and continues to actively resist. The Liberation Forces, whose side you are about to take, have learned that allied soldiers are being held captive by General Metrak. Your task: to get into the deep rear of the enemy, find the hostages and release them from prison.
Just do not underestimate your opponent - he is cunning and cunning. Mortal danger lurks around every corner. If courage, courage, valor and honor are your middle name, then welcome to the ranks. Good luck on the battlefield, soldier!
Look at the war from the side. Unlike the original Killzone, Project Liberation features a smart camera that offers a third-person perspective. Now you can see your alter ego, and a quick-witted virtual operator who chooses the best angles will not cause trouble with orientation.
There is safety in numbers. Separate episodes of a rich campaign have prepared for you large-scale battles with the participation of many fighters. A special interface for issuing orders provides convenient management of subordinates: you can easily send soldiers to the right point and set various tasks for them.
An old friend is better than two new ones! Killzone: Liberation guarantees a meeting with the heroes already familiar from the original game. However, along with the "veterans" in the script there are fresh actors with invariably bright and deeply individual characters.
There are never too many firearms. At your disposal are a variety of means of destruction, the most exotic of which can be considered a sniper rifle and a crossbow with exploding arrows. Need something heavier? Sit at the controls of enemy combat vehicles!
Fight for freedom globally! You can connect from two to eight consoles via Wi-Fi wireless interface to fight with friends against virtual opponents or find out the relationship with each other.
Completely in Russian! All text resources of the game are fully translated into Russian, and the dialogues are voiced by the best Russian actors.
---
GAME INFO
---
Game name:
Killzone: Liberation
Platform:
PlayStation Portable (PSP)
Developer:
Guerrilla Games
---