Game description Lego Star Wars II: The Original Trilogy - PlayStation Portable (PSP)
In the base 750 games PlayStation Portable



---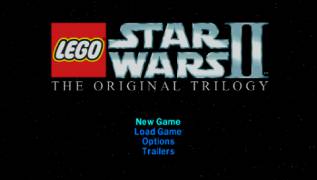 Lego Star Wars II: The Original Trilogy
PlayStation Portable - PSP
Build, Battle and Break! So, the new game LEGO Star Wars II on counters. This time she mentions the classical trilogy (An episode the IV New Nadezhda, the Episode the V Empire Strikes Back and the Episode of the VI Return of the Jedi), in this game you will see fight of Rebels with the Galactic Empire and you will be able to reconstruct this galaxy. From Darth Vader's prosecution of the Princess Lea before battle on the revived Death Star, the game made of cubes of LEGO is poured by puzzles and company humour because of which LEGO Star Wars won such popularity.
of Feature of a game:
- From Luke and the Princess Lea to Han Solo and Darth Vader. You will be able to play for more than your 50 favourite characters from the Universe of Star Wars LEGO an appearance.
- Build and Adjust in millions of various ways. For the first time, you will be able to sozdvat and ride new vehicles, to build new beings and to explore the world of the classical trilogy. Create and adjust new characters and their abilities. To play with the new strongly destroyed okryzheniye and amusing puzzles in LEGO Star Wars it became cheerful, more than ever.
- Play with friends.
---
GAME INFO
---
Game name:
Lego Star Wars II: The Original Trilogy
Platform:
PlayStation Portable (PSP)
Developer:
Traveller's Tales
---