The game - LittleBigPlanet PSP - PlayStation Portable | PSP
750 games PlayStation Portable



---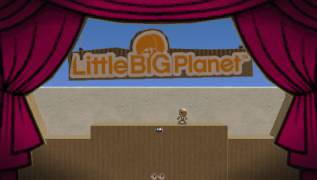 LittleBigPlanet PSP
PlayStation Portable - PSP
A true hymn to creative freedom, LittleBigPlanet is now on PSP. The portable version of the game has adopted all the main advantages from its older sister. Among them are a colorful world, endlessly cute characters and a unique opportunity to create, limited only by the player's imagination. In LittleBigPlanet everything lives by your rules!
The game begins with the birth of the main character - Sackboy. Having created it, you will go on an unforgettable journey through three dozen different levels. Sackboy's path is filled with obstacles and puzzles, as well as a wide variety of items that you can collect and use as building materials for your own creations. You can construct anything you want - from a single object to an entire level. At the same time, the laws of physics apply to all the components from which you assemble your creation.
When the work is finished, the resulting masterpiece can be put on public display on the PlayStation Network, and in the meantime, get acquainted with the work of other creators. A game with millions of fans, which can be changed by the players themselves, will evolve indefinitely. And you can contribute!
-Play, create, share. You can not only go through ready-made levels, but also create your own. Your creations and those of other players are hosted on the PlayStation Network so that everyone can appreciate the work of others.
- Freedom and simplicity. In LittleBigPlanet, you can bring to life almost any of your creative fantasies, and it's not at all difficult to do. The easy-to-learn toolkit provides endless possibilities!
-Construction Materials. Stickers, decorations, various materials, including glass, metal, sponge, foam, cardboard and rubber, all kinds of bolts, switches and twigs - all this will be at your complete disposal. What to make of these items is up to you. But remember - each of them strictly obeys the laws of physics ...
-New landscapes. LittleBigPlanet on PSP contains thirty new levels in seven different territories.
---
GAME INFO
---
Game name:
LittleBigPlanet PSP
Platform:
PlayStation Portable (PSP)
Developer:
SCE Cambridge Studio
---