The game - Luxor: Pharaoh - PlayStation Portable | PSP
750 games PlayStation Portable



---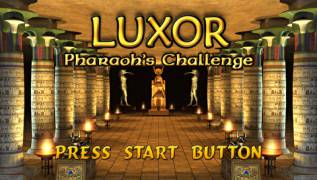 Luxor: Pharaoh
PlayStation Portable - PSP
Features a new storyline that will take you to the world of Ancient Egypt as well as the afterlife. Five new scarabs, upgradable power-ups, 13 new blessings and story mode and endless mode for different playstyles and new ones.
Embark on an exciting adventure through the lands of ancient Egypt in the latest version of the famous "casual" game Luxor: Pharaoh's Challenge. Enjoy 88 detailed levels, fascinating images of pyramids, temples and other symbols of ancient civilization.
Exclusive features of Luxor: Pharaoh's Challenge:
Five types of scrubs pushing a chain of balls. Each of the scrubs grants unique abilities upon being killed;
Show all your skills and get 25 special badges that prove your skills;
88 game levels will not let you get bored for a long time.
---
GAME INFO
---
Game name:
Luxor: Pharaoh
Platform:
PlayStation Portable (PSP)
---