The game - Marvel Nemesis: Rise of the Imperfects - PlayStation Portable | PSP
750 games PlayStation Portable



---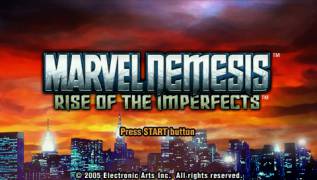 Marvel Nemesis: Rise of the Imperfects
PlayStation Portable - PSP
Spider-Man, X-Men, Fantastic Four - the heroes of Marvel comics are innumerable. Each of them is dedicated to more than one film and many games, but in Marvel Nemesis: Rise of the Imperfects they will meet each other face to face. Meet to fight the great evil! Niles Van Roeckel, a brilliant scientist from a neighboring galaxy, was expelled from his own planet. As an oh base for the counterattack, he chose the Earth, where he began to produce an army of monsters. Fortunately, the cradle of mankind is not defenseless. Superheroes keep a close eye on her well-being! Van Rokel was rebuffed, but did not give up, but offered to arrange a grand championship, which would finally decide who was cooler. The Earth is represented by the stars of Marvel comics, and the elite villains participate from Van Roekel's side,
What are the heroes in the fight? Choose any fighter for justice you like and go to the mortal battle. In a brutal fight, you will have full control over all the fighter's superpowers!
Celebrity Game! The characters of Marvel Nemesis: Rise of the Imperfects were created by legendary comic book illustrator Jay Lee and character designer Paul Cutling.
Experience the chaos of battle! Everything that surrounds you in battle can become a deadly weapon. The developers have achieved a unique interactivity. You won't recognize the arena after the fight!
You are fighting for the Earth! Remember this! The plot is not presented "for show", the story really develops and makes unexpected pirouettes as the game progresses.
Who is the best? Marvel Nemesis: Rise of the Imperfects will help you find out in two online modes. Fight with a friend on the same console or go in search of worthy opponents on the Web! Ever wondered if Spider-Man would make Mister Fantastic? It's time to check!
---
GAME INFO
---
Game name:
Marvel Nemesis: Rise of the Imperfects
Platform:
PlayStation Portable (PSP)
Publisher:
Electronic Arts
---