Game description Marvel Nemesis: Rise of the Imperfects - PlayStation Portable (PSP)
In the base 750 games PlayStation Portable



---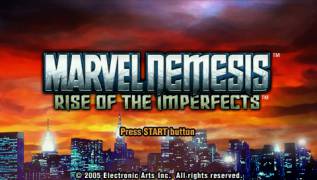 Marvel Nemesis: Rise of the Imperfects
PlayStation Portable - PSP
Spiderman, Ickx's People, Fantastic Four & mdash; heroes of comics of Marvel are incalculable. Not one movie and a set of games, but in Marvel Nemesis is devoted to each of them: Rise of the Imperfects they should meet with each other face to face. To meet to battle against the great evil! Naylz Van Rokel, the ingenious scientist from the next galaxy, was turned out from own planet. As oh base for counterstroke it chose Earth where began to produce army of monsters. The benefit, Cradle of Humankind it is not defenseless. Superheroes vigilantly look behind its wellbeing! Van Rokel received repulse, but did not give up, and suggested to organize the grandiose championship which will solve finally, who more abruptly. The earth is represented by stars of comics of Marvel, and from Wang Rokelia the elite villains born by the collective imagination of artists of Marvel and designers of Electronic Arts participate.
What heroes in a fight? Choose any pleasant fighter for justice and forward, on mortal fight. In a cruel fight you receive complete control over all superabilities of the fighter! & nbsp;
the Game from celebrities! Over characters of Marvel Nemesis: Rise of the Imperfects worked the legendary illustrator of comics Jay Li and the designer of filmstars Paul Katling.
Learn fight chaos! Everything that surrounds you in fight, can become a lethal weapon. Developers achieved unique interactivity. You do not learn the arena after fight!
you fight for Earth! Remember it! The plot is presented not & laquo; for
---
GAME INFO
---
Game name:
Marvel Nemesis: Rise of the Imperfects
Platform:
PlayStation Portable (PSP)
Publisher:
Electronic Arts
---