Game description Marvel Super Hero Squad - PlayStation Portable (PSP)
---
---
---
---
In the base 750 games PlayStation Portable



---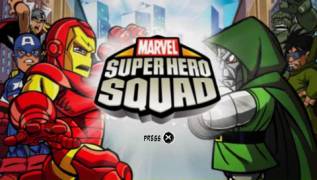 Marvel Super Hero Squad
PlayStation Portable - PSP
Universe under the threat! The doctor of the Dumas and his Killing Legion conceived to find all Fractals of Infinity to collect from them a legendary Sword of Infinity and to bring down its power on defenders of good and justice. Whom to support in fatal collision, to solve to you. In Marvel Super Hero Squad the most great heroes and the most artful villains of comics of Marvel are brought together, and each of them can become your character. Captain America, Doctor of the Dumas, Hulk, Iron Man, Silver Surfer, Torahs, Glutton & mdash; choose any of more than two tens famous warriors. The destiny of the world depends on that whose you decide to side! & nbsp;
Each hero is unique
, and Infinity Fractals in addition give it special abilities by means of which it is possible to change even rules of the game! Building combinations from crushing blows, you should lay a way through ranks of opponents and to achieve the objectives whatever it was. In adventure game-torrento.org the mode six fascinating subject campaigns which will allow to steep to the world of bright comics are presented. Also at your service the fighting mode where it is possible to forget about the scenario and just to try forces with other heroes. Learn what character of comics of Marvel is the strongest than the others! & nbsp;
Famous heroes and villains. In a game more than 20 characters from comics of Marvel, including the Captain America, Hulk, Iron Man and the Glutton are presented. At everyone & mdash; the unique abilities!
Unforgettable adventure. Six subject campaigns will reveal before you secrets of the drawn Universe and will acquaint with six bright characters: Glutton, Hulk, Tor, Iron Man, Silver Surfer and Falcon.
Additional scenarios. In addition to the existing companies you can open two additional & mdash; with the Spiderman and doctor Dum in leading roles.
Find fractal power. Look for Infinity Fractals to allocate the character with unprecedented abilities.
Combine efforts. It is possible to battle against enemies for rescue of the City of Superheroes in the company of loyal friends who will give a helping hand in fight.
to Open everything that is hidden! Get access to additional characters, suits and
---
GAME INFO
---
Game name:
Marvel Super Hero Squad
Platform:
PlayStation Portable (PSP)
---