Game description Marvel Trading Card Game - PlayStation Portable (PSP)
In the base 750 games PlayStation Portable



---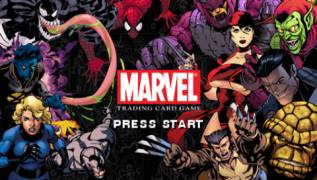 Marvel Trading Card Game
PlayStation Portable - PSP
When efforts are combined by real masters of the business whose creativity gained recognition of players of the whole world more than once, the projects doomed to success are born. Marvel Trading Card Game & mdash; the product of such fruitful union which was born on a joint of the Universe of comics of Marvel and the well-known gambling Vs. System Trading Card Game from Upper Deck! & nbsp;
Brave heroes & mdash; Glutton, Spiderman, Electra, Torahs, Ickx's People both many others and mdash; became participants of unprecedented card battles. The issued in style of colourful comics, dynamic fights demand good reaction, determination and uncommon thinking. And vast experience of creators of the legendary Yu-Gi-Oh series! guarantees parties intensive and unlike at each other behind which it is simply impossible to miss! If you are ready to throw down a challenge to supermen of Marvel & mdash; dare and be sure: they will accept it! & nbsp;
Favourite heroes again with you! Not important on whose party there are familiar characters. Having chosen kind or evil forces in one of two single modes, you personally solve, rest and an order will set in in Marvel world or the Universe is fated to plunge into Darkness.
Four kinds of playing cards! Among them you will find hundreds of spells, heroes, weapon, special abilities and many other things. Select the best combinations of game-torrento.org and attack! At your service thousands of options of attack and protection!
Main fights still ahead! The single championships will become excellent warm-up for skilled players and school of survival for beginners. Be slighted, open secrets and cunnings, develop own strategy and tactics. The received skills will be useful in a collective game!
Owners of PSP and the computer play
together! The card championships reject platform borders. You always have a choice: to organize a local tournament with friends or to connect to the Web and to play game at the international level, having battled for a rank of the champion of Marvel Trading Card Game!
---
GAME INFO
---
Game name:
Marvel Trading Card Game
Platform:
PlayStation Portable (PSP)
Developer:
Vicious Cycle Software
---