Game description Marvel: Ultimate Alliance - PlayStation Portable (PSP)
In the base 750 games PlayStation Portable



---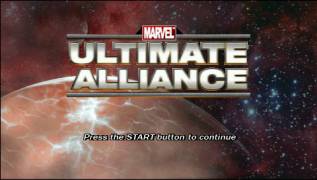 Marvel: Ultimate Alliance
PlayStation Portable - PSP
Long time superheroes of the Universe of Marvel constantly kept order in the world of people. Having dispersed on the planet, they always appeared where the evil spread the dark wings. But in an hour when the destiny of the world hung on a hair again, forces of defenders suddenly appeared insufficiently. To resist to fatal threat, heroes had to forget about old offenses and to rise shoulder to shoulder in decisive fight. To alliance of good in this war heartrending experiences are prepared, and only with your help he will manage to win a victory.
At last dreams of admirers came true! In at one time, in one place all most popular heroes of comics of Marvel met. The spiderman, the Glutton, Ickx's People, the Captain America and many others became participants of new fascinating adventures. Unite their superabilities, form the unique team of four characters, train them in the most powerful attacks and throw down a challenge to the Doctor's legions the Duma and Masters of the Evil! Only harmonious actions of well worked team together with your courage will not allow to grow dim forever to the sun in Marvel world: Ultimate Alliance! Decide! The fight for the world in the Universe of Marvel began!
Comics come to life! In a game you will meet more than hundred forty familiar characters! Twenty heroes became even stronger! The glutton, the Spiderman, Electra, Torahs and many others have the unique potential. Realize their potential! Heroes only well familiar to you will be able to resist to Galaktus, the Doctor the Duma and to other dangerous villains!
Unlimited opportunities! In Marvel: You are free to do to Ultimate Alliance everything that want! Choose the name for team, think up it the coat of arms and create the vehicle! Improve the hero or all group entirely if you want to pass with it to the end. Possibilities of Marvel: Ultimate Alliance are limited only to your imagination!
Hand-to-hand fight by land and by sea! Captures, blocks, combinations and superblows, and also receptions with the one-manual, two-handled and coupled tools are available to each of heroes. Arrange fisticuffs in air, on the land and even under water!
the Well-known fights wait for you! Be involved in all most large-scale battles described in comics! Visit all legendary places of the Universe of Marvel! The thorny road of brave team lies through seventeen exotic, beautiful, but deadly episodes!
Nonlinear plot! From what you will make and what you will not make during tasks, events of a further game depend! Be attentive. Cunning will help to avoid many serious problems!
One in Marvel not the soldier! Having combined efforts with friends, you can resist to the evil together! The whole teams of heroes will get up face to face with huge hordes of darkness! And if it seems a little & mdash; fight with each other. Find out whose team is worthy ranks of the strongest!
---
GAME INFO
---
Game name:
Marvel: Ultimate Alliance
Platform:
PlayStation Portable (PSP)
Developer:
Vicarious Visions
---