The game - Bakemonogatari Portable - PlayStation Portable | PSP
750 games PlayStation Portable



---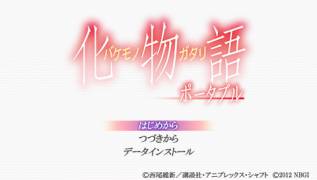 Bakemonogatari Portable
PlayStation Portable - PSP
Bakemonogatari is a tangle of strange demons, girls with poisonous tongues and unusual characters. The game is a dialogue of fighting. Learn quotes and say them during battles to defeat your opponents, convince them, or make them fall for you.
Not all words can do. You must speak words that match with your character to activate her full power. Once you influence another character with your words, you can combine, or attack them with a sure kill skill. You can even interrupt other characters when they are talking to give yourself an opportunity to attack.
The story mode includes characters from anime such as Hitagi Crab and Mayoi Mayoi. You can create your own battle mode battles and write your own fantasy mode story.
---
GAME INFO
---
Game name:
Bakemonogatari Portable
Platform:
PlayStation Portable (PSP)
---