Game description Bakemonogatari Portable - PlayStation Portable (PSP)
In the base 750 games PlayStation Portable



---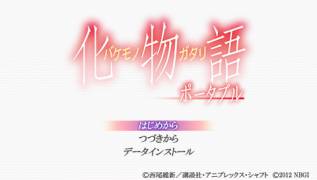 Bakemonogatari Portable
PlayStation Portable - PSP
Bakemonogatari a ball strange demons, girls with poisonous languages and unusual characters. A game is a dialogue of fighting. To learn quotes and to tell them during battles to win against the opponents, to convince them, or to make their falling for you.
Not all words can make
. You have to tell words which correspond from your character to activate its full capacity. After you to influence other character from your words, you can combine, or attack them with sure to kill skill. You can even interrupt other characters when they speak to give themselves the chance for the attack.
the Mode of history includes characters from an anime, such as Hitagi Crab and Maya's Mayoi. You can create own fights in the fighting mode and write an own story in the fantasy mode.
---
GAME INFO
---
Game name:
Bakemonogatari Portable
Platform:
PlayStation Portable (PSP)
---