Game description Medal of Honor: Heroes 2 - PlayStation Portable (PSP)
In the base 750 games PlayStation Portable



---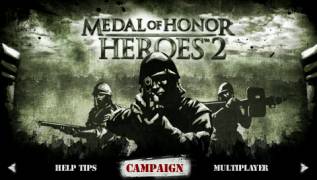 Medal of Honor: Heroes 2
PlayStation Portable - PSP
When on your shoulders huge responsibility lays down, to recede and be afraid late, it is necessary to go safely forward, despite everything. The simple sortie to the back of the enemy is wrapped in the most important task for all war. World War II continues, and on June 6 the 1944th you turn its outcome. The special agent John Berg gets into Normandy to overthrow terrible fascist regime and to strike crushing blow to defense of the opponent. The course of all fighting, the slightest oversight depends on success of operation, and approach of allies will be broken. It is impossible to hesitate, go to a front line and show all are capable of!
the Opponent was dug round by
in due form warfare, approaches are reliably blocked by minefields and snipers. You need remarkable power of available weapon and the help of colleagues. Courage of these tempered fighters - the shattering force with which it is possible to go against any enemy. In Normandy you are expected by tens of difficult tasks where there is no place of pity and to compassion - only the strongest survives.
---
GAME INFO
---
Game name:
Medal of Honor: Heroes 2
Platform:
PlayStation Portable (PSP)
Publisher:
Electronic Arts
---