The game - Metal Gear Acid - PlayStation Portable | PSP
750 games PlayStation Portable



---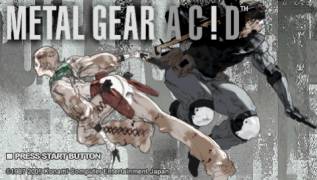 Metal Gear Acid
PlayStation Portable - PSP
The history of gaming spy series Metal Gear from Konami has almost two decades. The first game about the adventures of superspy Solid Snake appeared in Japan back in 1987. It's time for the iconic series to debut on the most advanced portable entertainment platform, the PSP.
The game takes place in 2016. A terrorist group hijacks a plane carrying a US presidential candidate - a clear contender for victory in the upcoming elections. In exchange for the life of the future president, the terrorists demand to give them all the information on the project, codenamed "Pythagoras" (Pythagoras), which is being worked on by an unknown community on the island of Lobito (Lobito Island).
Agent Solid Snake will have to find out who is behind the Pythagoras project, what this project is and why the terrorists are so interested in it. Snake must sneak into the heavily guarded Lobito Island base and steal the Pythagoras, whatever it is.
The gameplay of Metal Gear Acid has taken the best elements of Metal Gear Solid 2, Metal Gear Solid 2: Substance and Metal Gear Solid 3 and introduced a new unique system for the main character, tactical and combat process, created specifically for the PSP. With the help of "game cards" the player determines the sequence of actions of Solid Snake. For example, in one turn, a player can use a shot from a silenced pistol and hide in the shadows under the cover of camouflage. The player needs to use a set of "game cards" intelligently and wisely to help Snake sneak around the entire island and complete his task. When the cards run out, it's the enemies' turn to move and attack.
You have to quietly remove the guards, sneak in an inconspicuous shadow and engage in open fights with fights and shooting. The more successfully the player acts, the more new skills and "game cards" will be given to the hero for one turn and the more varied and interesting the gameplay will be. The player is waiting for more than 200 types of powerful weapons, as well as tactical and combat techniques of Solid Snake.
The game is being developed by Konami's new studio, Kojima Productions, led by game designer Hideo Kojima, author of the Metal Gear series.
Multiplayer mode is supported - up to 2 players simultaneously via Wi-Fi. This mode also uses "game cards". Each player can spend a certain amount of them, after which the move is transferred to the opponent.
---
GAME INFO
---
Game name:
Metal Gear Acid
Platform:
PlayStation Portable (PSP)
---