The game - Micro Machines V4 - PlayStation Portable | PSP
750 games PlayStation Portable



---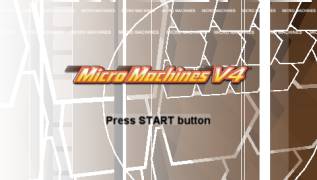 Micro Machines V4
PlayStation Portable - PSP
Every boy in childhood had fun playing cars. And everyone probably remembers how fun it was to carry toy models on the floor or on the ground, blow bubbles and make strange sounds, imitating the roar of an engine. It was also a lot of fun to disassemble these cars and see what they have inside. True, it was rarely possible to find anything interesting there, but the process of cognition itself is unlikely to be forgotten. In MicroMachines V4, published by Codemasters, the research streak of future and former (and also safely past this great honor) defenders of the fatherland will not come in handy. But the ability to pave the way for a miniature model through a kitchen clogged with obstacles is very even.
Surprisingly, despite the long history, the MicroMachines series remains virtually unchanged, keeping the original concept in its original form for the past ten years. And V4 will not be an exception to the rule: we, as of old, will have to take on the role of a radio-controlled car driver and take part in races over rough and not very terrain, picking up various bonuses along the way and trying to annoy our rivals more strongly. Radical changes in terms of graphics are also not worth waiting for - all three versions of the game are true to the traditions of the series and do not try to pose as a white crow.
The desire of V4 to be like previous games in the series is understandable - MicroMachines has always attracted gamers with its simplicity and high level of playability, they just do not need to do plastic surgery on the gameplay - everything is perfect anyway. In addition, the game was developed by the Supersonic Software studio, which ate more than one wrench in the development of previous games in the series.
Another hello from the past - the developers plan to include in the V4 a set of tracks that will squeeze a tear out of the elderly fans of the series: racing through the kitchen, pool table and around the pool, from which water splashes every now and then, surely familiar to every fan of "micromachines". Of course, it will not do without new stages.
MicroMachines V4 expands the habitat of radio-controlled toys: now you can drive not only around the house and surrounding areas, but also on rooftops, sewers, a supermarket and even a farm.
Of course, happy PSP owners will be able to enjoy their favorite tracks in online races with friends via Wi-Fi.
---
GAME INFO
---
Game name:
Micro Machines V4
Platform:
PlayStation Portable (PSP)
Developer:
Supersonic Software
---