Game description Micro Machines V4 - PlayStation Portable (PSP)
In the base 750 games PlayStation Portable



---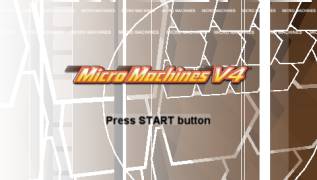 Micro Machines V4
PlayStation Portable - PSP
Each boy in the childhood had a good time a game in machines. And everyone for certain remembers how it was cheerful also ndash; to carry toy modelka on a floor or the earth, to start up bubbles and to make strange sounds, imitating an engine roar. It was still very cheerful these machines to sort and watch that at them inside. There, however, seldom it turned out to find something interesting, but process of knowledge will hardly be forgotten. In MicroMachines V4 released by Codemasters publishing house, a research vein future and former (and also it is safe this great honor passing) defenders of the fatherland it is not useful. And here ability to lay to tiny model a way through the kitchen hammered with obstacles & ndash; very much even.
by
It is surprising, but, despite a long story, the series MicroMachines practically do not change, keeping the initial concept in original state for ten years. And V4 an exception of the rule will not become: we as well as in old time should undertake a role of the driver of the radio-controlled car and to take part in arrivals on crossed and not really areas, selecting various bonuses for a way and trying to salt more strong to rivals. ndash should not wait for radical changes as regards graphics too also; all three versions of a game are faithful to traditions of a series and do not try to pose as the black sheep.
the Aspiration of V4 to resemble the previous games of a series is quite explainable also ndash; MicroMachines always attracted gamers with the simplicity and high level of gameability, they simply do not need to do plastic surgeries on a gameplay & ndash; in total and so ideally. Besides, the Supersonic Software studio which ate not one wrench on development of the previous games of a series was engaged in development of a game.
One more hi from the past & ndash; developers plan to include a set of routes which will squeeze out a tear of aged fans of a series in V4: races on kitchen, a billiard table and around the pool from which water is continually splashed out are for certain familiar to each admirer & laquo;
---
GAME INFO
---
Game name:
Micro Machines V4
Platform:
PlayStation Portable (PSP)
Developer:
Supersonic Software
---