Game description Midnight Club: L.A. Remix - PlayStation Portable (PSP)
In the base 750 games PlayStation Portable



---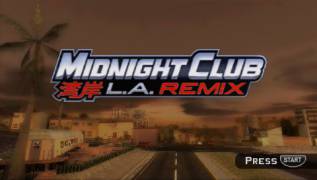 Midnight Club: L.A. Remix
PlayStation Portable - PSP
All Los Angeles turned into the racing ground: streets, highway, parkings and lanes. You should pass a way from the beginner to the best-known racer of the city, gradually earning reputation. Then you will begin to be taken seriously, and you will have money for improvement of the car. Also there is only one way to score points & mdash; races, races and once again races.
At your disposal more than 40 types of cars and motorcycles of four different classes: Tuner, Luxury, Exotic and Muscle. It is very easy to begin a race also with mdash; it is enough to blink headlights to other racers. Besides ordinary races there are Freeway Racer and Police Chases modes which will help to test your skills of the racer.
- to Any standard car or a bike can give unique identity and style. By means of additional details and devices you can assemble the exclusive vehicle which will become your business card.
- to you does not need to wait for loading of missions, to keep up with statistics or to follow rules. There are only a speed and freedom.
- In a game a set of types of racing competitions, including Circuit Races, Unordered Races, Freeway Races, Time Trials, Tournaments, Red Light Racer, Series Races, Wager Races, Pinkslip Races, Delivery, Payback and Telephone Challenge. Is what to choose from.
- Police cars became more variously and quicker, than earlier. The police constantly patrols city streets and is ready to stop illegal street races at any time.
- Besides usual control facilities at your disposal four special functions. By means of Zone you can slow down time to do abrupt turns or to maneuver in a dense stream of the movement. Agro will give to your car the big power and an opportunity even quicker to cause a loss to rivals or at all to take out them from a race. Roar starts a wave which sweeps away all other vehicles from your way. EMP & mdash; it is an electromagnetic impulse which will switch off all engines in surrounding cars and will force them to stop.
---
GAME INFO
---
Game name:
Midnight Club: L.A. Remix
Platform:
PlayStation Portable (PSP)
Developer:
Rockstar London
Publisher:
Rockstar Games
---