Game description Monster Hunter Freedom - PlayStation Portable (PSP)
---
---
---
---
In the base 750 games PlayStation Portable



---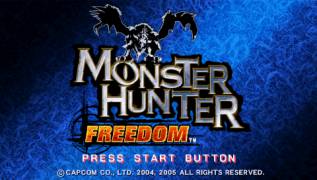 Monster Hunter Freedom
PlayStation Portable - PSP
Monster Hunter Freedom will tell of adventurers which wander on the world, battling against various monsters. A game begins with control of appearance of your hunter on monsters: choice of a hairstyle, face type, voice and other attributes. You can explore vicinities and be accepted to different tasks: for example, to find the lost jewelry in a cave of a dragon or to arrange hunting for the terrible monster of an unclear origin. Hunters can use meat of prostrate monsters for food, bones - for weapon and armor, claws and teeth - for jewelry. After performance of a task the player receives bonus points which can be used for improvement of characteristics of weapon or equipment.
of Feature of a game:
the Game contains a set of various levels and tasks which can be carried out as one, and in the multiplayer mode, having combined 4 consoles and efforts of 4 friends to do away with the evil around the world.
---
GAME INFO
---
Game name:
Monster Hunter Freedom
Platform:
PlayStation Portable (PSP)
---