The game - 2010 FIFA World Cup South Africa - PlayStation Portable | PSP
750 games PlayStation Portable



---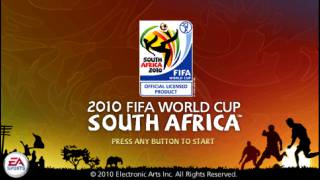 2010 FIFA World Cup South Africa
PlayStation Portable - PSP
"FIFA World" returns to personal computers and various consoles again. Therefore, the PSP console is no exception here.
This time the FIFA World game covers the events of the 2010 FIFA World Cup in South Africa. Players will be able not only to feel the tense atmosphere of the game in a large stadium, but even change the course of events (of course, in the virtual game universe), representing the team of their country.
In total, almost 200 game teams (199) entered the new part of FIFA World, each of which represents its own country. All the teams that entered the game took part either in the South African Football World Cup 2010 itself or in one of the qualifying rounds.
Features of the game:
- Players can literally change the course of events of the championship in the game world, because, as already mentioned, the teams that participated in the qualifying rounds entered the game.
- The game gives you the opportunity to experience all the events of the World Cup, from qualifying to the final.
- Rich tactical opportunities will allow you to perfectly master the ball and develop your own strategy on the playing field. And excellent graphics - enjoy the game visually.
---
GAME INFO
---
Game name:
2010 FIFA World Cup South Africa
Platform:
PlayStation Portable (PSP)
---