The game - Mortal Kombat: Unchained - PlayStation Portable | PSP
750 games PlayStation Portable



---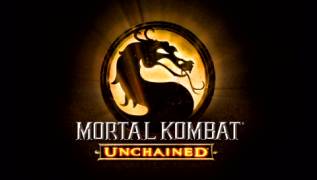 Mortal Kombat: Unchained
PlayStation Portable - PSP
Mortal Kombat: Unchained brings you the coolest fighting game ever made for the PSP with some truly brutal killing! Multiple "fatalities", interactive dialogues between the characters, absolutely incredible features, six new fighters with fantastic stamina! The game completely transforms the fight genre. An ancient evil returns and threatens the very existence of the realms. Will the champion of the Elder Gods be able to deal with the threat born of Deceit?
Game features:
Six new heroes - Jax, Kitana, Frost, Blaze and Emperor Shao Kahn himself.
New game mode - try yourself in a completely new and unlike anything seen before Endurance mode.
Fatality and Hara Kiri, as well as brutal new combos and deadly arena traps.
Konquest mode is back - an exciting adventure in which you will learn a lot about the world of Deathmatch.
Exciting mini-games - Chess Kombat chess battles and Puzzle Kombat puzzles that you loved from previous parts of the series are available to you.
Play with friends - play via wi-fi is supported.
Single player modes:
Arcade - in this mode, you must take turns fighting the strongest fighters to earn the right to fight Onaga.
Endurance - In this mode, you also fight strong fighters, but your life bar remains the same regardless of the number of battles. That is, in the event of a victory over one fighter, you fight with the next one with your remaining health reserve after the battle.
Training - in this mode, you can hone your combat skills on an enemy that does not respond to attacks.
Konquest is a mode in which you can play as Shujinko, see how he was in his youth, youth and old age. This is the only MortalKombat: Unchained mode that features a story. All the main tasks are very monotonous: go there, learn from him, kill him. It's very annoying, but if you complete the konquest, you will know all the basic techniques of each of the many styles.
Mini-games:
The game contains mini-games that dilute
Chess Kombat - here you are invited to play chess according to the rules of Mortal Kombat. It doesn't matter what chess strategy you choose here, what matters is how you know how to fight. The game is especially exciting if you play multiplayer.
Puzzle Kombat is a classic Tetris with funny miniature characters that hit each other with a successful move in the puzzle itself.
Multiplayer:
This mode was specially created for those who like to measure their gaming skills with friends. This mode will be very useful for those gamers who think that artificial intelligence is not enough to defeat them. You can compete with your friends in chess, tetris or in a regular battle.
---
GAME INFO
---
Game name:
Mortal Kombat: Unchained
Platform:
PlayStation Portable (PSP)
Developer:
JGI Entertainment
---