The game - MotorStorm: Arctic Edge - PlayStation Portable | PSP
750 games PlayStation Portable



---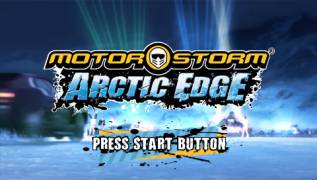 MotorStorm: Arctic Edge
PlayStation Portable - PSP
The sparkling racing holiday is back! Thanks to the efforts of studio Bigbig, responsible for the amazing game Pursuit Force, PS2 and PSP owners can now join the exhilarating MotorStorm competition. The action moves to Alaska, where in harsh climatic conditions it is important not only to win the race, but simply to survive!
Snow avalanches and fragile ice bridges turn an already intense race into a real extreme test for true connoisseurs of motorsport. In addition to the six vehicle classes featured in the original MotorStorm, the Arctic Edge now features cars designed specifically for driving on snow. Icy wind, snow dust, insidious frozen track - test yourself for strength in extreme conditions!
* Alaska is not for sissies. Snow, rain, wind, narrow crevices, ice caves and fragile natural bridges - that's what awaits you on the snow-covered roads of Alaska.
* Special transport. Use special vehicles to surf the snowy expanses. Light "Snow Cat" and "Snowfall" are at your service.
* Rich selection of tracks. Take part in races along 12 dangerous routes laid across the expanses of harsh Alaska. To refresh your impressions, each track can be driven in the opposite direction, from the finish line to the start.
* Natural traps. When driving on treacherous snowy tracks, you need to be wary of unexpected avalanches that can be caused by harsh noise, and fragile ice bridges that break under heavy vehicles.
* Unique fireballs. Vehicles can be upgraded with various decorative items, as well as new wheels and mufflers. You can also create your own coloring for the car.
* Serious rivals. Virtual racers carefully analyze the situation and behave accordingly. They notice loopholes to reduce the distance and adequately respond to aggression.
* War on the track. To win the race, you first need to just survive. Competitions are held according to strict rules, and the car is used not only as a vehicle, but also as a weapon.
* Photo for memory. You can capture the most spectacular moments of the race in pictures and send them to your friends.
* Compete with your friends! Up to eight players can participate in a collective race - arrange epic competitions.
---
GAME INFO
---
Game name:
MotorStorm: Arctic Edge
Platform:
PlayStation Portable (PSP)
Developer:
Bigbig Studios
---