The game - MTX Mototrax - PlayStation Portable | PSP
750 games PlayStation Portable



---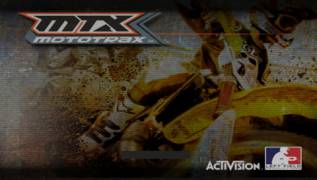 MTX Mototrax
PlayStation Portable - PSP
An uncompromising MTX moto simulator: Mototrax has managed to win the love and respect of tens of thousands of users of modern consoles, and now he is confidently entering the PSP market! Get ready for the most limitless competition in the world of motors. But before you start, breathe in the air of a stadium of many thousands, stop the wheel chain beating in a wild dance and drive away the excitement. Listen: there will be absolute silence in the MTX: Mototrax arena for a moment before the start. Silence that portends not a race, but a battle!
Crazy MTX: Mototrax competitions are held in a variety of categories. High-speed circuit races, stunts at height, competitions in huge open areas and superiority in the overall standings will bring you not only fame, but also money. Learn hundreds of somersaults, put the best parts on your motorcycle and enlist the support of sponsors. You will need all the strength and means to take part in a truly serious game. Only the winner of The X Games will be awarded the title of absolute champion!
New game mode! Especially for the PSP version, the developers created the MTX game mode, which included thirty-two exclusive tracks.
Create your tracks! With a simple editor, you can design your own tracks, and then arrange competitions with your friends on them.
The benefits of team play. If you have four PSP consoles, you can connect them wirelessly. Competing in the championship with real people is always more interesting!
Find a use for money! The money earned in the races can be spent on improving the motorcycle or buying new tracks. Constantly control your expenses - lack of funds for a new engine can end your career.
Ride the world with the breeze! Motocross, Supercross, off-road racing and freestyle races take place in different parts of the world - from the beaches of Hawaii to the forests of Australia.
To win you need mood! A music collection of thirty-six compositions in the style of "punk" and "metal" will help you get the right mood. The authors of most of the songs included in the game are such famous bands as Metallica, Slipknot, Faith No More and Disturbed.
---
GAME INFO
---
Platform:
PlayStation Portable (PSP)
Developer:
Left Field Productions
---