Game description Ben 10 Alien Force: Vilgax Attacks - PlayStation Portable (PSP)
---
---
---
---
In the base 750 games PlayStation Portable



---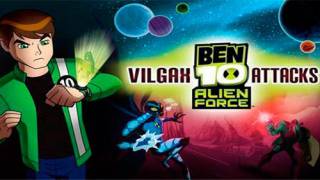 Ben 10 Alien Force: Vilgax Attacks
PlayStation Portable - PSP
In the game Ben 10: Alien Force - Vilgax Attacks to players should operate Ben again. Also in a new part Ben gained new abilities and forces. We are waited again by the sea of adventures from the known cartoon serial!
to you should learn to be operated
In a new game not only Ben, the main character of animated series,
but also ten of its alien forms among which Humongosaur and Chromastone
Battle against Vilgax and other opponents, familiar for a long time on series, and explore new planets in this fascinating adventure fighter.
you is waited by absolutely new subject line which is thought up especially for this game.
---
GAME INFO
---
Game name:
Ben 10 Alien Force: Vilgax Attacks
Platform:
PlayStation Portable (PSP)
---