Game description Namco Museum Battle Collection - PlayStation Portable (PSP)
---
---
---
---
In the base 750 games PlayStation Portable



---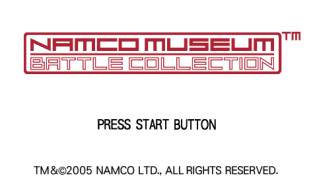 Namco Museum Battle Collection
PlayStation Portable - PSP
What it is possible to tell about the collection of reprintings? Perhaps, we will be limited to transfer of those remarkable arcadian games of the past that entered it. These are 4 ingenious creations from Namco: Pac-Man, Galaxian, Rally-X, Dig Dug. The wireless communication allows to organize the multiuser matches with the assistance of 4 people. In a race, firing and even a consuming of opponents prove that you best of all remember how it was.
Namko's Collection arcadian games, such how to dig out a dugout, the PAC person and Galaga and released the Namco company of the fairy tale of Ltd studio. he was let out for the portable PlayStation prefix in Japan on February 24, 2005 and consisted of eleven classical games from Namco of game history. North American and European versions contain additional ten games and was released on August 23, 2005. In the European version which was published only, was issued on December 9, 2005 and again there was as Platinum also PSP of the Basis of Viewings on May 6, 2009 and on April 8, 2011 respectively.
the Collection contains also four options a little from Namco better known properties, is known as mechanisms. These games (PEK-Man, to dig out a dugout, Galaga and the New meeting - x) have the updated presentation, and also to enter a number of new geympleyny concepts for everyone arranged the name.
Classical games have a possibility of turn of the screen by ninety degrees to display original permission of an arcade along with other options of the size, as a rule, did not find in the Museum of a series of Namko. Game also uses portable game
---
GAME INFO
---
Game name:
Namco Museum Battle Collection
Platform:
PlayStation Portable (PSP)
---