The game - Napoleon Dynamite: The Game - PlayStation Portable | PSP
750 games PlayStation Portable



---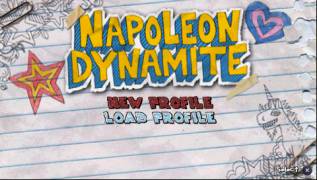 Napoleon Dynamite: The Game
PlayStation Portable - PSP
Crave Entertainment has announced the development of Napoleon Dynamite, a game based on the 2004 film of the same name. In the game, you'll meet familiar (assuming you've watched the movie) characters, including Kip, Uncle Rico, Pedro, Tina, and of course, Napoleon himself.
Napoleon Dynamite, who really has such a strange first and last name, has nothing to do with his French namesake, Napoleon Bonaparte. However, there is something remarkable in the main character, which he cannot see in himself only because he is constantly busy with a very important matter - he looks at one point in space, trying to unravel the meaning of life.
In general, the guy is not quite right in the head ... "Napoleon Dynamite is one of the most exciting films in the last ten years," said Mark Burke, vice president of Crave Entertainment. - This is one of those films whose characters and phrases remain in our memory for a long time. We really hope that fans of the film will also enjoy the new game."
The game has a lot of mini-games actually it consists of them!
---
GAME INFO
---
Game name:
Napoleon Dynamite: The Game
Platform:
PlayStation Portable (PSP)
Publisher:
Crave Entertainment
---