Game description Naruto Shippuden - Kizuna Drive - PlayStation Portable (PSP)
In the base 750 games PlayStation Portable



---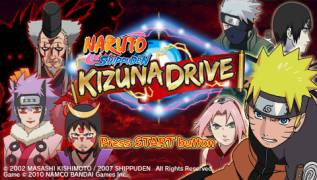 Naruto Shippuden - Kizuna Drive
PlayStation Portable - PSP
In a new game with the name & quot; Kizuna Drive" will oppose as the ninjia Naruto huge and blood-thirsty monsters. Team fight is an only way to overcome so strong and terrible opponent. You will be able to create the team, using the familiar alliances mentioned in the manga of the same name or to create your own trio of heroes. Operate three players or act as group from four soldiers in the cooperative mode.
Develop own strategy, but remember that chances are one success more when in a chain there are all links! It is possible to manage only defense and attack, but also the healer will not hinder team!
Become
the master ninjia, having studied the sequence of pressing of buttons, that applying the most powerful combined blows and breaking the opponent for the opponent. Do not forget to collect at the same time precious Kizuna glasses that in the future by means of them to improve your skills and abilities.
---
GAME INFO
---
Game name:
Naruto Shippuden - Kizuna Drive
Platform:
PlayStation Portable (PSP)
Developer:
Namco Bandai Games
Publisher:
Namco Bandai Games
---