Game description NBA - PlayStation Portable (PSP)
In the base 750 games PlayStation Portable



---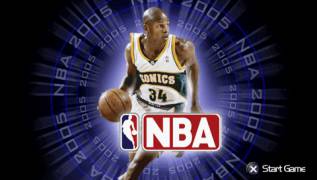 NBA
PlayStation Portable - PSP
If you thought that you know everything about basketball, you will understand that you were mistaken, having at least once stepped into the virtual basketball NBA Street platform. Your opponents are clever, quick and hammer balls so stylishly and beautifully that they will be envied by any professional.
you will be able to play
with legends of basketball and the brightest stars in a sky of modern NBA. It is the real street basketball, free from rules and borders. There is only a platform, the rival and a ring over which it is necessary to soar as if a bird.
Earn by
a crown of the king of street basketball platforms. In the King of the Court mode you should play three on three against the brightest stars of NBA.
Management intuitively, but is far not as simple as can seem at first sight. You should learn different receptions, passes, processing of a ball and, of course, exact and beautiful throws. To win, you need not just to hammer balls, but to do it stylishly and effectively.
by
supports the mode of a collective game & mdash; to 4 players at the same time on Wi-Fi. The trip with friends can be passed away behind two fascinating and dynamic mini-games. Points scored in Shot Blocker and Arcade Shootout are not lost and considered in the general game rating of your player.
you will be able to enjoy
by means of the built-in EA Pocket TRAX media player a soundtrack of the game written by stars a rap and hip-hop, among which MC Lyte, Guerilla Black and De La Soul.
---
GAME INFO
---
Platform:
PlayStation Portable (PSP)
---