Game description NBA Ballers: Rebound - PlayStation Portable (PSP)
In the base 750 games PlayStation Portable



---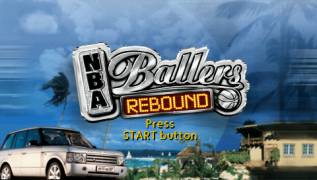 NBA Ballers: Rebound
PlayStation Portable - PSP
NBA Ballers: Rebound will help you to create the basketball player of a dream with all that it implies, from a fashionable prikid and expensive accessories to magnificent houses and cars. But from nothing nothing appears therefore magnificence of beautiful life should be built on skill of ball handling. Only the best of the best will be able to become the superstar of NBA. Create the character from more than 100 combinations of the editor and leave in private with the best basketball players of the planet, moving ahead on the way of international recognition. The exclusive PSP modes include, among other, Dunk Fest and King of Thieves.
New arenas for a showdown. In the version of a game for PlayStation Portable there were locations which were not in the version for PlayStation 2.
your character - your ideas. A large number of combinations of the editor of characters allow to configure appearance and the basketball player's settings in one hundred different ways.
Earn
and spend. On obtained for matches & quot; Ballers Credits" it is possible to buy new abilities, clothes, cars and even at home.
---
GAME INFO
---
Game name:
NBA Ballers: Rebound
Platform:
PlayStation Portable (PSP)
Developer:
Backbone Entertainment
---