The game - NBA Live 06 - PlayStation Portable | PSP
750 games PlayStation Portable



---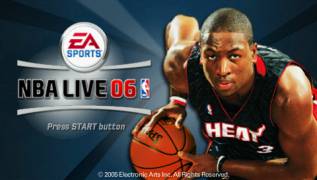 NBA Live 06
PlayStation Portable - PSP
In Dynasty Mode, the player selects one team (excluding the All Star teams) in the game and starts a dynasty that spans many seasons. Decisions are made on the number of games per season, difficulty level, professional players, and signing new players, along with hiring coaches. Games can be simulated. Dynasty mode contains all stars, except for players or rosters, depending on the season of the dynasty. In the game, the player hires a coaching staff and runs fees that can be simulated. There is also a trade term.
In season mode, the gamer only plays one season of basketball. The player can trade, sign and drop players.
In the playoffs, the player competes in the playoffs with teams from the Eastern or Western Conference. The default teams are those that were in the 2004-05 playoffs.
In Star Mode though, the game player can participate in a rookie game, a dunk contest, or a 3-point contest. In a dunk contest, unusual dunks are a try and the player with the most points wins. In the 3 point contest, as many 3-point throw attempts as possible. How the 3 point shootout and slam dunk contest will be announced on TNT inside NBA analyst Kenny Smith.
---
GAME INFO
---
Platform:
PlayStation Portable (PSP)
---