The game - Need for Speed: Undercover - PlayStation Portable | PSP
750 games PlayStation Portable



---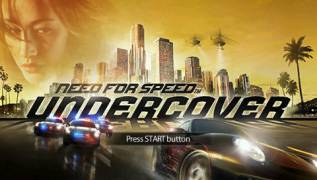 Need for Speed: Undercover
PlayStation Portable - PSP
Who would have thought that your life would turn into a chase, where you are either a game or a hunter. Get behind the wheel to infiltrate a ruthless international crime syndicate and bring it down from the inside. The one you're chasing is a real maniac on wheels. He drives like his life depends on it, and maybe it does. He has the answers to all your questions, and your task is to knock them out of him. Needless to say, an armada of police interceptors in your rearview mirror won't make your life easier. Everything you know, every ounce of your skill will be needed to evade the law, defeat the enemy and discover the truth that will end this pursuit once and for all.
Features of the game:
Deep in the underground - a story full of drive about the chase and betrayal. Complete missions and races to prove yourself and bring down the international crime syndicate.
Highway Battle - Defeat the cops and racers by tearing them apart in high-stakes high-speed chases. The new, highly improved artificial intelligence has made the cops smarter and more aggressive. Now they seek to take you here and now by any means necessary.
Win in the open world - break through a powerful highway system into the open world of the coast of Tri-City - with three unique cities connected by many freeways.
Acrobatic Engine - A completely new game engine will allow you to perform amazing stunts and drive to the limit.
---
GAME INFO
---
Game name:
Need for Speed: Undercover
Platform:
PlayStation Portable (PSP)
Publisher:
Electronic Arts
---