The game - Neopets: Petpet Adventures: The Wand of Wishing - PlayStation Portable | PSP
750 games PlayStation Portable



---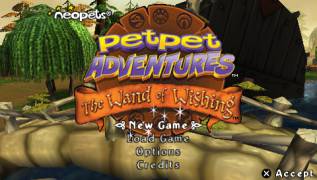 Neopets: Petpet Adventures: The Wand of Wishing
PlayStation Portable - PSP
Neopets: Petpet Adventures - The Wand of Wishing is one of the brightest representatives of the action genre with RPG elements. The game, created according to the book of the same name, for the first time gives everyone the opportunity to plunge headlong into the mysterious world of Petaria.
Players can create their own character by choosing from four types of local residents, Petpets and customizing all of its characteristics. The created characters can be used in both single player and multiplayer mode. In an attempt to defeat Evil and recover the fabulous Magic Wand, players will encounter over 100 unique characters and enemies, with the ability to collect and use over 800 items along the way.
Neopets: Petpet Adventures - The Wand of Wishing is a mixture of action, adventure and RPG in one whole, and it is worth noting that in the end this game for psp turned out to be quite high quality. In the main game mode, you can choose one of four different neopets, game-torrento.org, each of which is determined to go with you through all 30 different levels, meeting over a hundred different characters on their way and having the opportunity during the game collect somewhere around 700 unique and very useful items and all kinds of artifacts.
Also in the game for psp Neopets: Petpet Adventures in multiplayer mode, 2 players will be able to fight against each other in various locations using a Wi-Fi network.
---
GAME INFO
---
Game name:
Neopets: Petpet Adventures: The Wand of Wishing
Platform:
PlayStation Portable (PSP)
Developer:
SCE Studios Santa Monica
---