The game - NHL 07 - PlayStation Portable | PSP
750 games PlayStation Portable



---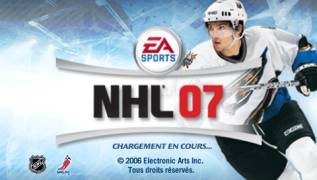 NHL 07
PlayStation Portable - PSP
The atmosphere of the stadium is tense to the limit. The stands are buzzing in anticipation of a bright action. Spotlights snatch out from the mysterious twilight the faces of the true stars of world hockey. The referee's whistle, the spotlights become brighter, the ice creaks under the skates - the match has begun! Like lightning in the frosty air, athletes rush from gate to gate, leaving behind sparks of ice dust. Excitement, the heady taste of victory, the tense atmosphere of a serious battle - plunge into the ocean of hockey passions with NHL 07!
NHL 07 puts the most expensive players in the National Hockey League under your responsibility. Having received at your disposal one of the hundreds of clubs, you become its full owner and team coach. It depends on your actions on the training ground and during the match whether the wards will leave the stadium as winners or losers. Properly coordinate the actions of the team, do not count the crows, and no one will be able to defeat you!
On ice like clockwork! The new control system, which has received the speaking name "Smart Stick", greatly facilitates the life of virtual hockey players. It has become more convenient and easier to give commands to players and manage athletes on the field. Even the most sophisticated feints do not require super complex button manipulations.
Everything is like in life! NHL 07 uses a unique AI system that makes both your and the opposing team's athletes act like real people! They show the highest class of professional play, but at the same time, sometimes they make mistakes.
Every hockey player is good in his own way! But they are all different. Someone is a born goalkeeper, someone is a brilliant striker. Having figured out the strengths and weaknesses of the opponent's players, you will definitely win.
Players are the blood of the team. Without a well-balanced composition of the cup, you will not see your own ears. The owner of the club himself recruits "stars" under his wing: buy famous athletes and part with the losers!
Big sport does not tolerate singles. Wirelessly connect your consoles and have an epic competition with a live opponent!
Take your team with you! Once you start your career in NHL 07 on PS2, you can continue your career away from home. It is enough to connect your mobile PSP to a stationary console, and your favorite hockey players will move into your pocket!
The PSP is just as good! On the screen of the pocket console, you can easily recognize famous hockey players - the image quality is not inferior to that of the PS2. At the same time, matches are loaded very quickly, without cooling the sports ardor with a long wait.
---
GAME INFO
---
Platform:
PlayStation Portable (PSP)
Publisher:
Electronic Arts
---