Game description NHL 07 - PlayStation Portable (PSP)
In the base 750 games PlayStation Portable



---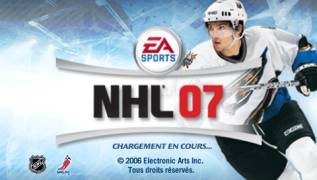 NHL 07
PlayStation Portable - PSP
The atmosphere of stadium is heated to a limit. Stands hoot in an anticipation of bright action. Searchlights snatch out from the mysterious twilight of the person of true stars of world hockey. The arbitrator's whistle, light of spotlights becomes brighter, under skates ice & mdash creaks; the match began! As if lightnings in frosty air, athletes rush from gate to gate, reserving sparks of ice dust. Passion, the exciting taste of a victory, a charged atmosphere of serious fight & mdash; plunge into the ocean of hockey passions together with NHL 07!
gives to
of NHL 07 for your responsibility the dearest players of the National Hockey League. Having received one of hundreds of clubs in the order, you become its full owner and the coach of the team. On the training platform and during the match depends on your actions, wards will leave stadium winners or losers. Competently coordinate actions of team, do not consider crows, and nobody will be able to overcome you!
On ice like clockwork! The new control system which received the speaking name & laquo; Clever Klyushka» significantly facilitates life of virtual hockey players. To distribute teams to players and to operate athletes in the field it became more convenient and simpler. Even the most sophisticated feints do not demand superdifficult manipulations with buttons.
All as in life! In NHL 07 the unique system of artificial intelligence thanks to which athletes of both your team, and team of rivals behave as if living people is used! They show the highest class of a professional game, but, at the same time, sometimes and are mistaken.
Each hockey player is in own way good
! But all of them & mdash; different. Someone born goalkeeper, someone & mdash; ingenious forward. Having solved strong and weaknesses of players of the rival, you surely win a victory.
Players & mdash; it is team blood. Without well balanced structure of a cup to you not to see as own ears. The owner of club himself gathers also laquo;
---
GAME INFO
---
Platform:
PlayStation Portable (PSP)
Publisher:
Electronic Arts
---