Game description Online Chess Kingdoms - PlayStation Portable (PSP)
In the base 750 games PlayStation Portable



---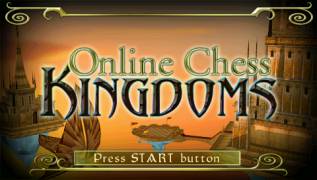 Online Chess Kingdoms
PlayStation Portable - PSP
The most ancient intellectual game in the history of mankind opens new sides in chess fights of Online Chess Kingdoms. On the PSP screen figures, and courageous soldiers move not just, the management of which demands remarkable ingenuity and sharpness.
Battle against electronic and living rivals on fantastically beautiful cards just seeing which takes the breath away. Online Chess Kingdoms & mdash; it is more, than chess. Besides habitual rules you will meet the extraordinary game modes with the laws and orders & mdash; they strikingly change usual party!
Chess with a plot! Opposition of familiar figures is not deprived of sense! On your eyes dramatic history with artful palace intrigues and original heroism of the soldiers betrayed to the governors is played.
of the Mystery of palace revolutions. Not all nuances will open at once. To get into the essence of events, it is necessary to perform a number of special tasks.
Five applicants for a victory. Five powerful forces fight for the power in the ancient kingdom at once. Choose the party: magicians, inhabitants of the water world, cybernetic soldiers, wood spirits or legions of Chaos.
of the Figure move as live! Moving on a board, soldiers go, swing swords and tie with each other duels. At soldiers of each of the parties unique animation.
you solve
what will be the chess world. Admirers of a traditional game will receive the standard two-dimensional picture with the top view, having turned that Online Chess Kingdoms into usual chess.
Enjoy epic battles! Unique team & laquo; Speed Chess» turns a board in the field of grandiose fight, forcing all figures to move at the same time!
Compete with each other. Online Chess Kingdoms will easily define geniuses from tactics in your circle. Having connected PSP on wireless technology or having connected to the Internet, you will be able to battle against living people.
---
GAME INFO
---
Game name:
Online Chess Kingdoms
Platform:
PlayStation Portable (PSP)
---