The game - Online Chess Kingdoms - PlayStation Portable | PSP
750 games PlayStation Portable



---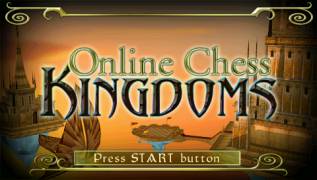 Online Chess Kingdoms
PlayStation Portable - PSP
The oldest intellectual game in the history of mankind opens up new facets in the chess battles of Online Chess Kingdoms. On the PSP screen, not just figures move, but courageous warriors, the management of which requires remarkable quick wit and ingenuity.
Fight against electronic and live opponents on stunningly beautiful maps, the mere sight of which will take your breath away. Online Chess Kingdoms is more than just chess. In addition to the usual rules, you will find extraordinary game modes with their own laws and orders - they dramatically change the usual game!
Chess with a story! Confrontation of familiar figures is not without meaning! Before your eyes, a dramatic story is being played out with insidious palace intrigues and true heroism of warriors devoted to their rulers.
Secrets of palace coups. Not all nuances will open immediately. To penetrate the essence of events, you will have to perform a number of special tasks.
Five contenders for victory. Five powerful forces are fighting for power in the ancient kingdom at once. Choose your side: mages, inhabitants of the water world, cybernetic soldiers, forest spirits or legions of Chaos.
The figures move as if alive! Moving along the board, the soldiers walk, brandish their swords and engage in duels with each other. The warriors of each side have a unique animation.
You decide what the chess world will be like. Fans of the traditional game will get a standard 2D top-down view, turning Online Chess Kingdoms into a regular chess game.
Enjoy epic battles! The unique "Speed ​​Chess" command turns the board into an epic battlefield by making all the pieces move at the same time!
Compete with each other. Online Chess Kingdoms will easily identify tactical geniuses in your circle. By connecting your PSP wirelessly or by connecting to the Internet, you can fight live people.
---
GAME INFO
---
Game name:
Online Chess Kingdoms
Platform:
PlayStation Portable (PSP)
---