Game description Open Season - PlayStation Portable (PSP)
In the base 750 games PlayStation Portable



---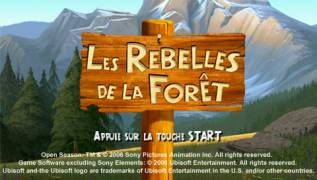 Open Season
PlayStation Portable - PSP
The game created by one of the most known game studios - Ubisoft, will allow you to feel all humour and adventure spirit of the original animated film. Developers could create the cheerful interactive world which reflects a comedy plot and amusing situations from the movie, the world where you will be able to meet fantastically charismatic characters of Open Season again.
of Open Season for PSP it is really overflowed with fascinating entertainments on open spaces where the motley mass of forest inhabitants prepares surprises of nothing for the suspecting hunters. The good-natured, got used to homeliness of the den grizzly by the name of Bug gives in on arrangements of a chernokhvosty deer of Eliot to move off in searches more best place for dwelling. Therefore Bug is lost in the unfamiliar woods just in 3 days prior to opening of a season of hunting. Instead of reconciling to the current state of affairs, Bug finds forces and gathers a team of similar forest inhabitants, is for any of several reasons far from the house. Together the united team is ready to give serious repulse to unwanted guests.
to
to Players will present an opportunity to operate both Bug, and Eliot which will throw skunks bombs, to operate acorn firings performed by squirrels, to frighten unlucky hunters in the most different ways. In the multiuser mode developers prepared for us several mini-games for 4 people.
of Open Season for PSP is:
- the Meeting with the fallen in love heroes of the animated movie of the same name.
- the Possibility of management of Bug and Eliot.
- Unusual weapon: The skunks bombs, squirrels shooting acorns and a set of other opportunities to frighten unlucky hunters.
- Mini-games on network to 4 people.
---
GAME INFO
---
Platform:
PlayStation Portable (PSP)
Developer:
Ubisoft Montreal
---